Monneaux's Spicy Chicken Wings
Posted on Thu July 8, 2021.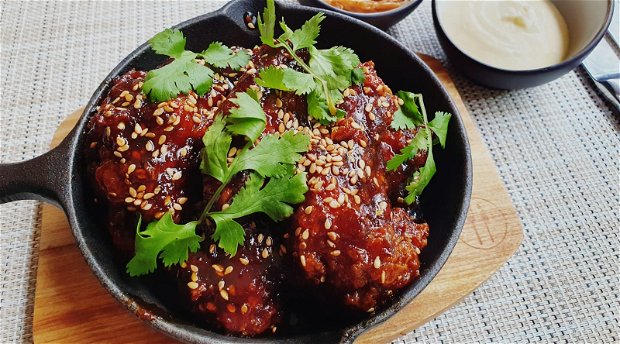 During the current lockdown, we thought you might enjoy making a fan favourite dish from Monneaux's Kitchen in the comfort of your own home.
Our Monneaux Spicy Chicken Wings are the perfect dish to prepare at home for your family and friends.
Follow this simple recipe below, for a dish you will be sure to memorize for years to come.

Chicken "brine"
Ingredients:
1kg chicken wings
1L amasi or plain yogurt
1 clove grated garlic
1 knob or 5cm grated ginger
Handful roughly chopped coriander
1 tbsp paprika
Salt & pepper
 
Method:
Mix everything together and marinate the chicken wings overnight in the brine
 
Spicy sauce
Ingredients:
2 tbsp Korean chilli paste or 2 red chilli's
3 tbsp brown sugar
2 cups soya sauce
15 cm grated ginger
2 cloves grated garlic
3 spring onions roughly chopped
1 cup mirin or Worcestershire sauce
Method:
Blend everything together
 
Assemble
Coat the wings in flour and fry until crisp and golden brown
Cook the chicken in the spicy sauce on high heat for 3 minutes
 
Garnish with fresh coriander, and serve with kimchi or mayonnaise
*It's perfect for a starter or main meal portion*