Mushroom ravioli recipe
Posted on Fri May 20, 2022.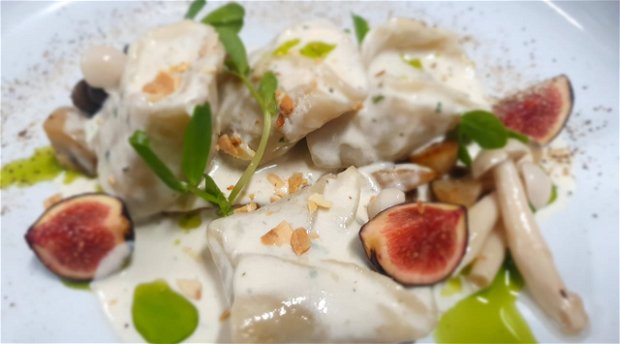 As the Franschhoek winter season approaches, you might be tempted to get your pots and pans out and try to cook some rich and saucy dishes in your kitchen. To help you unleash your inner Masterchef, Monneaux restaurant has created this delicious and rich Mushroom Ravioli recipe to try at home.
This amazing vegetarian dish is the perfect accompaniment to a warm fireplace and a glass of white wine. Hello, winter!
INGREDIENTS
Ravioli Filling:
·       500g variety of mushrooms
· One-eighth of an onion
·       1,5 cloves of garlic
·       17g chives
·       7g thyme
·       17g parmesan cheese
·       35ml fresh cream
·       Pinch of salt
Pasta Dough:
·       184g white bread flour
·       3 egg yolks
·       2g salt
·       4g olive oil
METHOD
Ravioli Filling:
·       Finely chop the dry ingredients
·       Fry in a pan on medium heat and add thyme
·       Once the mushroom moisture is out, add the cream and parmesan cheese
·       Once the cheese is melted, add the chives, and take it off the heat
Pasta Dough:
·       Place flour and salt in a mixing bowl and add the eggs
·       Add olive oil and mix dough until the lumps are out
·       Wrap the dough and rest in the fridge for an hour
Making Ravioli:
·       Roll out the dough on your pasta machine (pasta should be a consistency of soft to medium thickness)
·       Use medium size cutter to press out circles
·       Place 5g of ravioli filling in the centre of the circle
·       Close, press edges, fold edges over and close (in a tortellini shape)
Boil the ravioli in hot water until the dough is soft. Mix cream, parmesan cheese, chives and salt to taste in a pan on medium heat and place the ravioli in the pan to coat and cook for 2 minutes.
*Plate ravioli with sauce on a plate and serve with parmesan shavings.