Almond Chocolate Torte From The Monneaux Kitchen
Posted on Fri February 19, 2021.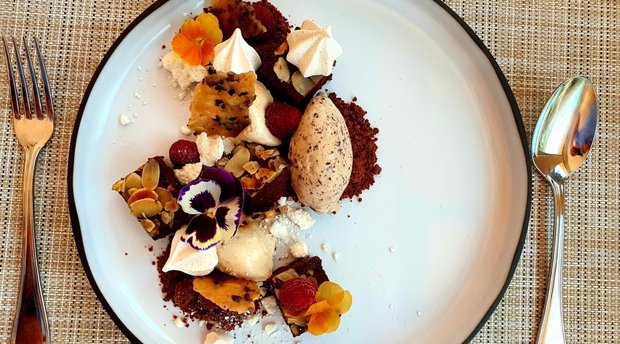 This gluten free dessert is one of our favourite sweet treats to make in the Monneaux Kitchen.
Just the right amount of decadence, and very simple to make it in the comfort of your very own home.
VANILLA MERINGUE:
Ingredients:
• 50 g egg whites
• 50 g icing sugar
• 50 g caster sugar
• ¼ tsp vanilla paste
Method:
• Preheat oven to 90°C
• Mix sugars
• Add quarter of the sugar mix to the egg whites and vanilla paste and whip until stiff
• Gradually add the rest of the sugar and whip until stiff and glossy
• Either pipe/smear on baking paper/silicone mat
• Bakein 90°C oven for max 2 hours until meringues are dry
ALMOND TORTE
Ingredients:
• 300 g dark chocolate
• 150 g butter
• 6 whole eggs
• 100 g caster sugar
• ½ cup flaked almonds
Method:
• Preheat oven to 160°C
• Melt chocolate and butter together
• Whip eggs and sugar until pale and triple in volume
• Fold in chocolate to egg mixture
• Pour in baking tin and sprinkle on raw nuts
• Bake for 50-60 minutes
Serve with cookies, fresh cream or ice cream and fresh berries.