Food & Home: Monneaux, Franschhoek Country House and Villas
Posted on Tue August 25, 2020.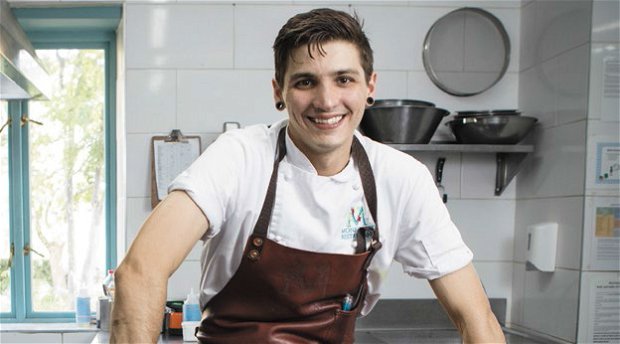 Young blood in the kitchen of Franschhoek stalwart Monneaux has reanimated the menu… and it's drawing quite a crowd.
BY RICHARD HOLMES
PHOTOGRAPHS BY BRUCE TUCK
Monneaux Restaurant in the Franschhoek Wine Valley certainly has no shortage of history. Over the past two decades it's been ranked among the best restaurants in the country, and seen the likes of Richard Carstens and Reuben Riffel head up the pass.
But in the past few years, it has quietly slipped off the region's culinary radar; popular with guests at the adjoining Franschhoek Country House & Villas, but often overlooked by hungry patrons in search of dinner.
That's all changed now, with an injection of new energy in the shape of Calvin Metior, who took over as executive chef in November 2019.
There's a quiet intensity about Calvin, a man who takes his craft seriously and speaks about each dish with unbridled passion. Need further proof?
His arms are inked with his favourite ingredients, from a butcher's cut chart to carrots, mushrooms and a globe artichoke. "It's one of my favourite vegetables," he explains and, pointing at his left elbow with a grin, adds: "There's an octopus coming soon."
Born and raised in Durban, Calvin studied at the city's International Hotel School, working a three-year internship at Quarters Hotel on Durban's Florida Road. Upon graduating, he relocated to London, where his first role was in the kitchens of Hix Oyster & Chop House, close to the city's historic Smithfield Market.
Mark Hix is one of Britain's most celebrated chefs and restaurateurs, and would become a major influence on Calvin's cooking. "That's where it started – my love for what you put on a plate, for simplicity," Calvin shares.
"Mark's whole concept is to have no more than three ingredients on a plate. Only locally sourced, only British, only of the season. Working for him really brought me into the world of loving produce."
Wanting to add the finesse of fine dining to his appreciation of produce, Calvin moved to Plateau restaurant, known for its contemporary French dining, followed by a stint at the Michelin-starred seafood-focused Angler.
Returning to South Africa, Calvin settled at La Motte Wine Estate as sous chef for Eric Bulpitt. But when Jean-Pierre Snyman, owner of Monneaux Restaurant and Franschhoek Country House & Villas, offered him the chance to lead his own kitchen, Calvin needed no convincing.
"Jean-Pierre wanted someone to come in and reinvent Monneaux, to make it their own. It was an open canvas, and that's exactly what I was looking for," he reveals.
Calvin's menu is defined by a sense of what he calls natural minimalism, creative simplicity that pays homage to the ingredients. The young chef takes provenance seriously, for when there's simplicity on the plate the ingredients have to shine.
Much of Calvin's fresh produce comes from the highly regarded Mason Farming in Stellenbosch, which supplies the kitchen with everything, from edible flowers to organic vegetables.
And despite the accomplished technique on the plate, Calvin is also adamant about going back to basics. "There are three things you'll always find in my kitchen: salt, sugar and vinegar. There is a process behind everything on the plate. We pickle, we brine, we salt. Nothing comes out of a packet."
Across the menu, Calvin's hand is evident in almost every element. Fish is cured on-site. Harissa paste for the carrots is made from scratch, as is the mustard for the beef tartare. Charcuterie? Ham? Jams? Everything is made in-house, with an increasing amount of fresh produce coming from the herb and vegetable gardens planted around Monneaux and amid the small vineyards surrounding the adjoining Franschhoek Country House & Villas.
An enchanting getaway run by the Snyman family since 1998, it began life as a small bed-and-breakfast, but the purchase of a neighbouring property in 2006 and the addition of deluxe rooms and villa suites has since seen it evolve into a charming boutique hotel. "The idea was to bring an intimate village feel to the space," says Jean-Pierre, whose family also own and operate Shumbalala Game Lodge in the Thornybush Reserve.
Of the 26 rooms and suites – all but two have private balconies – the highlights are the villa suites. There's a strong Provençal feel here, with opulent decor reminiscent of a French château. The 12 suites are gathered around a lush garden of roses, lavender and rosemary, with a pair of sparkling swimming pools set between the gardens and a small vineyard.
While Franschhoek Country House & Villas has grown into a sought-after winelands getaway, "we really want Monneaux to be known as a culinary destination on its own, and we have great faith that Calvin is going to make a name for himself here," Jean-Pierre affirms.
But Calvin seems less concerned about awards and reputation than creating a memorable culinary experience, with a menu structured for flexibility and discovery. For those simply dropping in for a glass of wine or local craft beer, the selection of snacks – think chicken liver parfait or a platter of house-cured charcuterie – are perfectly pitched to whet the appetite.
The small plates are larger, starter-sized portions, and showcase the creativity in the kitchen. The aged beef tartare is an absolute standout, and has rapidly become a signature of the new energy at Monneaux. The secret lies in coal from the large outdoor smoker, which is infused into oil that is used to create a dressing and smoked mayonnaise for the tartare. The end result is remarkable – a dish with all the smoky richness of grilled meat in a hand-chopped tartare, which has never been near a flame.
"Every time a guest orders it, they can't stop talking about the dish, asking us how we made it," Calvin smiles. "We're working hard to establish Monneaux as a destination that's all about the food, where every dish will have a story about it on the plate. We want to make diners inquisitive about the food, and I love going out to speak to guests. It's great to be asked about the dishes, about how we created them."
Calvin's also a dab hand at seafood, and the skipjack is another memorable stop on the small plates. "I call it poor man's tuna, and it's also such an underutilised fish," Calvin says. "When I got to Monneaux, I started playing around with it in the kitchen, and it's fantastic to cook with." At Monneaux, it arrives as tartare packed with Asian flavours, thanks to a zingy lime dressing, avocado, wasabi and pickled daikon.
Main courses allow Calvin even more space for creativity, all while turning the culinary gaze on the produce taking centre stage. The hay-smoked Oak Valley beef short rib is certainly worth discovering.
After four hours in the garden smoker, it's slow-braised in beer from the Hey Joe Brewing Company down the road.
Plated with fermented carrot and a burnt onion paste, it's a plate packed with umami. "There's no sauce at all with this plate. It's glazed very heavily, but the carrot purée acts almost like ketchup for the beef," explains Calvin.
There's also the duck breast, free range of course, that is crusted with deep-fried quinoa and chopped pistachios, then glazed with apple syrup, honey and Sherry vinegar. Each forkful delivers a textured flavour bomb of succulent meat. Superb.
While there's no shortage of finesse, there's equally a sense of tradition and comfort on the plate; familiar flavors and food memories reinvented with a contemporary twist. A perfect example is the apple tarte Tatin for dessert, with Pink Lady apples slow-cooked in a syrup of butter, sugar, star anise, and cinnamon.
With the restaurant packed one languid late summer's evening, it's clear each and every table is enjoying themselves immensely, but perhaps not as much as Calvin himself, who is reveling in both leading a kitchen and training up a brigade of eager young chefs. "It's about enjoying ourselves in the kitchen while showing people what we can create," he enthuses. "I love being a leader in the kitchen and helping my chefs to grow and build together. This is the role I've always wanted."